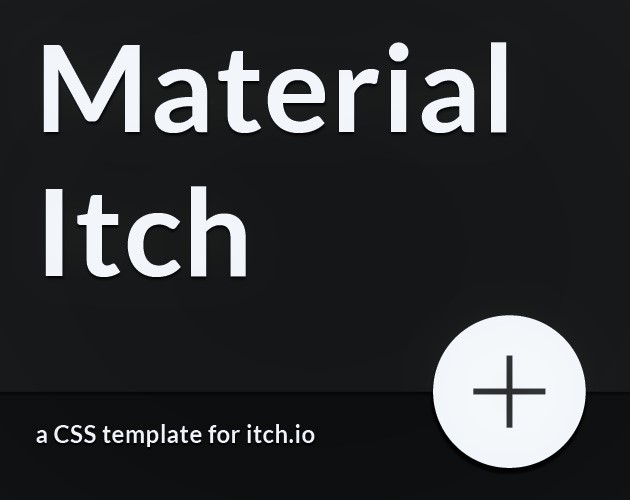 Material Itch CSS
Thank you for checking out the Material Itch CSS theme for itch.io!

This theme is based on the Material Design design language developed by Google—specifically its dark-mode styling. See material.io for more.

I made this for myself and thought if it was something I found preferable to the basic page layout, maybe others would too. So I wanted to share the theme's CSS code so anyone who wants to can give their project page a sleek modern look.

And if sleek and modern isn't your style, you can tweet me some examples of the kind of design you're looking for, and I'll see if it's something I'm able to do. (See links below.)
To use this theme, just download the packet, extract it, and follow the instructions in the !README file.

The code isn't as elegant or efficient as it could be, but it works, so...it's better than nothing? (Updates and refinements to come, but I want to make a profile-page version first!)

This theme follows itch.io's CSS guide (found here), but even though it should be fairly stable, there's a chance it may break when and if itch.io upgrades the site. If any site updates cause this theme to break, I will update the files and send out an alert message via itch.io's e-mail system to everyone who has paid for them.

For examples of how I've used the layout, see my game pages:

ReverseVania
UNDER ERASURE
※ This layout code currently supports only project pages and some of itch.io's basic layout elements.
※ Development is ongoing. If you would like to see development progress faster, consider donating—but don't feel obligated.

I hope you enjoy Material Itch!

Download includes the CSS code, HTML code, and a README file with instructions for using them both.

※ The asking price is $3.50, but you can pay less if cost is an obstacle. If you'd prefer to pay me in exposure, share this page on social media and follow me, etc. Thanks!

If you would like to know more about me or my designs, you can follow me in these places:

itch.io: qualityqontrol.itch.io
Twitter: twitter.com/qualityqontrol
Patreon: patreon.com/qualityqontrol
e-mail: qualityqontrolmedia@gmail.com
※ Please note that I haven't done anything with my Patreon yet. I just started it, so...well, you know how it goes.
Material Itch page design by Addison Koski.
Download
Click download now to get access to the following files:
Material Itch Basic Packet ZIP [v1.0]
4 kB