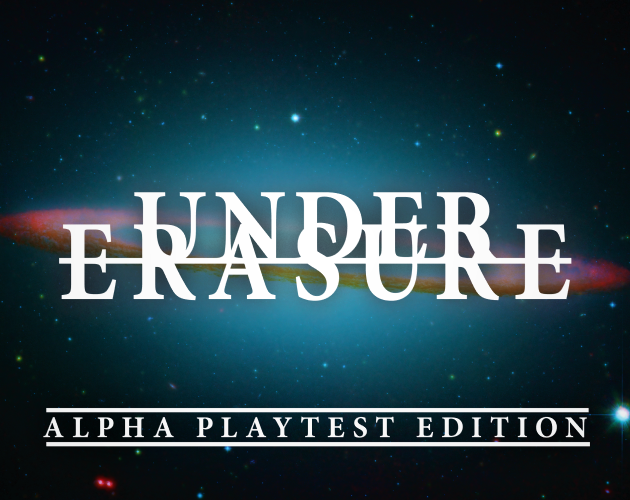 UNDER ERASURE Alpha Playtest
※ This version of the rules is out-of-date. For a more recent version, visit qualityqontrol.itch.io/under-erasure or go to @UnderErasureRPG on Twitter.
This is the alpha-playtest version of the UNDER ERASURE tabletop roleplaying game! Thanks for checking it out!

Play this game to tell a story with some friends—a saga of space outlaws making their way from planet to planet in a ruined husk of a cyber-opera galaxy.

Eden Prime was a utopia. Spanning the galaxy, the Grand Quorum met the needs of all. But with the ERASURE, that came to an end. Now, there is only the Ring, a band of far-flung worlds along the rim of the once-unified civilization.

Where there was balance, now there is only discord. Only you can reconnect the worlds of the Ring.

Play to find out if you have what it takes to persevere in the face of the forces that oppose you: your foes, the wild unknowns, and your own collective drive toward destruction.

Together, you and your ragtag crew travel what remains of Eden to restore what was lost, seize control of what's left, or just spend a couple hours stealing a starship with some friends.
With UNDER ERASURE, I'm looking to design a space-opera sandbox game that is both compelling to play and lends itself to easily producing a good story.

The goal is a set of rules that produces fantastic sagas spanning the stars...without much or any prep. On top of that, I'm focusing on employing an of strategy around resource management, without asking much in the way of math or fiddly bits. If that sounds interesting, help me find out what works and what doesn't!

To play, you will need 3–5 PC players, and 1 other player to play the rest of the galaxy. You all work together to tell the story of the crew of a starship seeking out connection in a broken world. You tell you story by taking action, spending resources, sharing notes, and sometimes rolling dice.

This is the alpha version, so there are some issues and imbalances, but the game is fully playable. If you'd like to help with development, please download a copy and give a play. Updated versions of the rules will but added as they are available, but quick development is not a top priority.

This (or an updated) alpha version will be freely available for as long as it can be—whatever that means. (Futher, post-alpha editions will have different pricing.)
I hope you enjoy the alpha-playtest version of the UNDER ERASURE!

Download includes the core rules, all the necessary handouts and playbooks, and an alpha questionnaire.

※ If you feel like donating, you're more than welcome to, but I'm not trying to ask anyone to pay to playtest my game. After clicking Download Now below, click No thanks, just take me to the downloads to download without donating.
※ If you'd like to pay me in exposure, share this page on social media and follow me, etc. Thanks!

If you would like to know more about me or my designs, you can follow me in these places:

itch.io: qualityqontrol.itch.io
Twitter: twitter.com/qualityqontrol
Patreon: patreon.com/qualityqontrol
e-mail: qualityqontrolmedia@gmail.com
※ Please note that I haven't done anything with my Patreon yet. I just started it, so...well, you know how it goes.
Material Itch page design by Addison Koski.
Download
Click download now to get access to the following files:
Under Erasure - Alpha Playtest Packet [v0.0.9]
1 MB